Revenue Integrity Services and Solutions
Revenue cycle management is much more than coding quality and minimized DNFB performance. AQuity helps all RCM influencers, from providers to billing team members, support optimized justifiable revenue.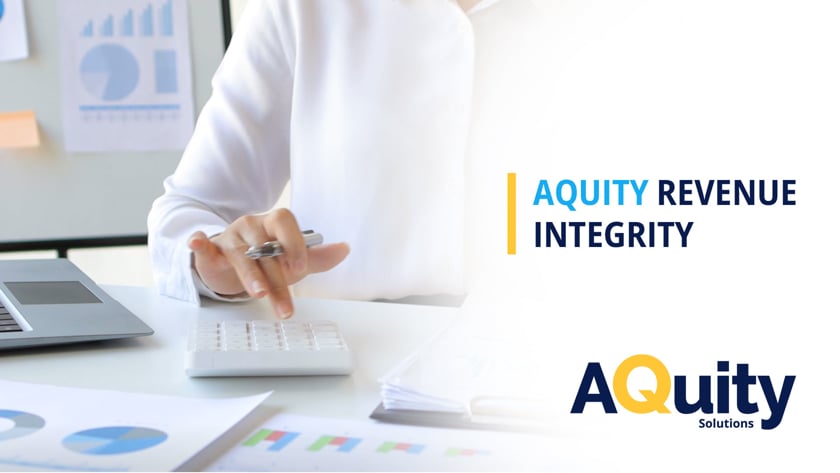 Proven RCM end-to-end consulting services for improved denial prevention and appeals results.
AQuity audits and record analysis projects target specific coders or service areas for a compliance focused assessment based on KPI measures.
We examine the entire claim encounter and all related charges to address overreaching issues and stop repetitive costs. 
Expert insights for coding, billing, or charge processing issues to ensure data quality, efficiency, and continuity to enhance financial performance. 
Stay ahead of documentation issues by pinpointing clinical accuracy and workflow challenges. 
Training programs and online education in AQuity Academy support enhanced knowledge, quality, and productivity across coding and clinical teams. 
The AQuity Revenue Integrity team follows a proven process to ensure detailed Revenue Cycle assessment and continuous process improvement.
Continuous Monitoring
Constant changes to government regulations, payer rules, and participating team members necessitates continuous end-to-end Revenue Cycle monitoring.
Expert Assessment
Our fully credentialed and experienced team conduct detailed pre-bill audits, denial reviews, and appeals management to gain a thorough understanding of improvement opportunities.
Issue Identification
Thorough reviews of all workflow stages, from document creation to coding quality, and pre-bill adjudication, identify issues at the source so overall performance can be optimized.
Team Training
Once the source of reoccurring issues are identified, focused training and updates to best practices are made to resolve the concerns at the source and prevent future incidents.
When implementing AQuity's front-end pre-bill edit process, we saw an immediate impact on cash-flow.
The impact on revenue and cost savings has far surpassed our expectations." Recently, we were told by a large technology partner our performance levels are actually better than those targeted in "best-practices" for national healthcare facilities.
AQuity came highly recommended for their broad revenue cycle expertise, and knowledge of our various platforms. And, after a site visit, we realized the team was not only a talented group of HIM professionals, but they were also highly knowledgeable in the outpatient setting, which made it a perfect fit. They were able to integrate themselves and adapt to our processes with ease. The project was conducted efficiently and exceeded our objectives.
Denials have dropped significantly and continue to as the AQuity team can identify issues in various departments through a front-end process and pinpoint the root cause of revenue loss.
What started as a coder training project evolved into a comprehensive coding solution and a centralized management system across the entire organization. The AQuity Academy and coder training is a dream platform for coding managers and coders alike.
Speak with a Revenue Integrity Advisor
AQuity is a nationally recognized leader in Revenue Integrity and Denials Management. Contact us today to discuss your objectives and learn how we can help.