Medical Transcription Services and Solutions
High quality medical transcription services are still the best way to document for many healthcare professionals.
Clinical Document Creation Solutions
and Medical Transcription
AQuity's clinical documentation creation solutions, including medical transcription outshine our competitors for quality and service, earning Best in KLAS Medical Transcription Service honors five consecutive years and named Top Ranked Clinical Documentation / Transcription Service by BlackBook nine years in a row. Led by a dedicated Customer Relationship Management team and automated reporting, our clients benefit from unparalleled process visibility, documentation workflow control, and cost management.
AQuity Transcription
Service by the Numbers
Minutes of Dictation Transcribed Last Month
Average Quality Score Last Month
Reports returned within contracted TAT last month
Learn More About Transcription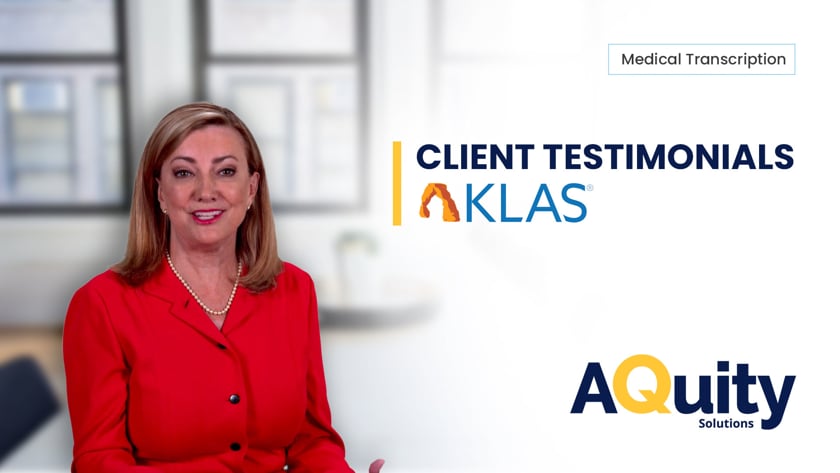 Medical Transcription Services Testimonials by KLAS
AQuity Transcription
Service Provides
Clinical document creation is the lifeblood to every healthcare organization's ongoing patient care and financial performance. To protect that investment, AQuity medical transcription solutions operates as a seamless extension of your medical practice, delivering industry-leading quality, fast turnaround times, and unmatched security backed by multiple third-party accreditations.
AQuity Medical Transcription service provide:
A leader in the medical transcription industry, AQuity is top ranked by KLAS and Black Book multiple years running
Exceptional full workflow process visibility
Superior customer service
Industry-leading experience in all specialties
Medical Transcription Key Benefits
Speak With a Medical Transcription Solutions Specialist Today
AQuity is recognized year after year by healthcare executives, HIM depart managers, and end user providers through KLAS and Black Book as the leading Medical Transcription Service provider. Contact us today to learn what we can do for you.
Here is an outline of our medical transcription process made up of three key steps:
Providers have the flexibility to capture dictation using a dedicated handheld recorder, land line telephone, tethered speech mic, or their cell phones/mobile device based on personal preference.
Medical records are transcribed by a transcriptionist with the support of back-end speech recognition with 100% sight and sound editing to ensure optimal workflow efficiency and accuracy.
Completed reports are directly uploaded into your EHR through a secure interface and can optionally be distributed to or accessible through a secure email, printer, fax, or AQuity's mobile app.
As the largest and most recognized Medical Transcription solution provider, AQuity has the most secure and mature technology, workflow, and client service support infrastructure in the industry. Contact us today to learn why we succeed with other provider organizations and individual physicians just like you.
Why Choose AQuity for your Medical Transcription?
Transcribing creating clinical documentation takes time. That's time away from patient care and an extra burden on healthcare providers. AQuity can relieve that burden with an expertly trained medical transcriptionist who can improve your record quality and accessibility, not to mention saving you time and money. And when providers can focus their attention on care rather than clinical documentation, it often leads to improved patient satisfaction.
Expedited Implementation
When you're ready to make the switch, the last thing you want to do is sit and wait. AQuity adapts to your timeline, expediting if needed, to begin services as quickly as you require. We make it as easy and seamless as possible, so you don't experience any unnecessary delays.
Accuracy
Tiny errors lead to big mistakes. It's something AQuity takes seriously. Our highly trained transcriptionists are experts in medical terminology, and act as the gatekeepers for accurate medical records. They catch any potential issues that may affect patient care or reimbursement while also working with clients to know their specific workflows and preferences. Our medical transcriptionists are proud of the high-quality work they provide, and it shows with over a 99% average quality score.
Security
With over 45 years of experience helping our healthcare customers of all types and sizes in the industry, we understand just how important security is when it comes to the data surrounding your patients and business. We meet all industry regulations with a combination of best practice and technology subject to third-party audits and maintain multiple certifications. We update and improve each security measure to accommodate for changes and emergencies at every stage, and our customers can call in at any time with a security question or technical problem. View our certification
Fast Turnaround
Patient care can't wait, and neither can the clinical documentation that goes with it. Delays can impact providers' schedules and reimbursement. AQuity's global workforce means we can meet quick turnaround times without sacrificing quality. You receive a complete, accurate record, and the provider can focus on quality patient visits.
Quality
AQuity consistently exceeds national averages when it comes to quality scores. Our staff is comprised of industry experts that are constantly evaluating new opportunities to improve the service we provide to our customers. We have cross-functional teams that monitor, track, trend, and provide detailed feedback on quality performance. In addition, our experienced quality teams provide feedback to our employees, so they continuously gain knowledge and improve.
Customer Care
You should never feel like a number when you need support. At AQuity, our Customer Care Representatives (CCR) start their relationship with the customer in the implementation process and continue forward with them, building a strong and lasting relationship. The trust we build with our customers is evident when they rely on our industry expertise for decision making and when choosing AQuity for additional business.
Audit Team
Auditing for quality control is so important to our business that we have a dedicated Audit Team. Our quality management program ensures we meet customers' expectations as well as our own internal measures for quality sampling. We audit over half a million jobs per year, ensuring that our customers get an unbiased overview of the quality that is delivered to them. We perform audits on the overall health of our accounts, on individual healthcare documentation specialist's performance, customer feedback audits, and even provide focused audits by request to address specific concerns. The feedback from those audits is used by our production staff to continue education and improvement.
Human Touch
There's something that AI can never fully replace: our people. The complexity of clinical documentation requires a human eye to catch any mistakes that may happen with voice recognition. Every report you receive from AQuity is created by a dedicated medical transcriptionist. Every document has been reviewed and edited by one of our expert staff members that has received specialty training. Our team has developed and implemented multiple tools to assist in the education and support of the healthcare documentation staff, so you can be assured that the record we return is accurate, complete, and is ready for you to sign off.
Speak with a Solutions Specials Today
Among medical transcription companies, AQuity is recognized year after year by healthcare executives, HIM depart managers, and end user providers through KLAS and Black Book as the leading Medical Transcription Service provider. Contact us today to learn what we can do for you.
Our Medical Transcriptionists
Specialize in Over 50 Fields
AQuity's medical transcriptionists have industry leading expertise in all specialty areas. We have over 45 years of experience working with healthcare providers and are committed to delivering the highest level of quality patient care documentation. Each clinical documentation specialist must pass assessments that require them to demonstrate proficiency in our system functionality, as well as in results. Our skilled team has extensive knowledge in over 50 areas of practice, including:
Our team accurately transcribes all areas of orthopedic surgery and medicine, no matter how complex the case. Whether it's related to spine diseases, sports injuries, degenerative diseases, infections, tumors, congenital disorders or simply anything related to the musculoskeletal system, we have it covered.
While surgeons are treating disease, our transcription services team tackles the behind-the-scenes clinical documentation. That leaves the medical staff to focus on life saving operations instead of paperwork.
What's more important than having heart? Keeping it healthy. Our experience covers medical transcription for all treatments related to the heart, blood vessels, and circulatory system, including heart defects, coronary artery disease, heart rhythm problems, valvular heart disease, and heart failure.
Family medicine doctors do it all. We take the administrative burden off them, so they can focus on what they love – continuing and comprehensive healthcare for patients of all ages, including babies, children, pregnant women, and the elderly. Whether in clinic or hospital environments, an Aquity transcriptionist take care of the medical records.
An AQuity Clinical Documentation Specialist will proficiently transcribe all respiratory medicine records from the providers dictated notes. Accurate medical records are essential to diagnose and treat lung conditions, such as asthma, bronchitis, or chronic lung diseases.
The diagnosis, treatment, and prevention of blood diseases and cancer requires extensive and complex clinical documentation. Our team receives specialty training to complete accurate documentation surrounding such diseases as iron deficiency anemia, hemophilia, sickle cell disease, leukemia, and lymphoma, among others.
Whether diagnostic or interventional radiology, having accurate documentation is needed to make the best medical decision for the patient. Our staff can handle all the medical terminology and notes related to imaging technology used to diagnose and treat disease.
Treating the mind is just as important as treating the body, and the clinical documentation to go with it is no different. Our highly trained staff complete all types of work related to behavioral disorders, depression, major thought disorders, and all mental/behavioral health diagnoses.
While you're treating patients for conditions affecting the anatomy, physiology, and diseases of the eye, you can expect to see (pun intended) fast, complete, and accurate documentation from AQuity's dedicated team. Our specialists have extensive knowledge in all areas related to eye conditions and the treatment surrounding them.
A unique specialty such as dermatology needs a team that understands all the aspects that go with it. Our skilled staff are familiar with the terminology and conditions affecting treatment of the skin and its diseases and can provide quick and accurate turnarounds.
The nervous system is a complex and sophisticated system, requiring a complex and sophisticated medical record to go with it. AQuity's medical transcriptionists are trained in the terminology and documentation needed for conditions involving the brain, spinal cord, and peripheral nerves.
Although the treatment may be brief, acute care has a significant impact on patient health. An AQuity medical transcriptionist correctly documents everything you need for treatment of severe injuries or episodes of illnesses, medical conditions, or recovery from surgery for follow-up and future treatment.
Obstetrics and gynecology practices require a special kind of care to treat the female reproductive system as well as prenatal, delivery, and postnatal stages of pregnancy. AQuity can handle the clinical documentation while the provider focuses on quality care during these important life stages.
Our medical transcription team knows all the specialty terminology related to evaluation, diagnosis, and treatment for oral medicine. We can provide professional documentation to support your patient's dental care.
Treating gastrointestinal tract diseases and pathology requires extensive knowledge on the esophagus, stomach, liver, pancreas, and more. AQuity's team are experts in the area and can proficiently and accurately transcribe your notes and other documentation.
Keeping your patients on their feet is your top priority. Ours is delivering accurate transcripts on schedule so that you can provide the best care possible. Our team is experienced with the terminology and treatment of podiatry disorders.
The fast-paced world of urgent care requires a broad understanding of illnesses and injuries. Accurate medical records are a necessity, and our highly skilled staff can precisely transcribe your notes and reports.
Providing the highest quality patient care when it comes to children requires precise and clear reports. A highly trained AQuity Clinical Documentation Specialist will catch errors and deliver accurate reports.
Additional Areas of Expertise Include:
AQuity Transcription Services FAQ
Has AQuity earned any industry recognition or awards for transcription services?
AQuity Solutions Medical Transcription Services have been rated 'Best in KLAS' five times by senior healthcare executives and administrators in addition to being judged 'Top Ranked' by BlackBook nine times through surveys of end users.
Can AQuity accommodate complex workflows?
Yes, AQuity Medical Transcription Services identify problem areas in complex workflows and figure out how to efficiently complete tasks. We create customizable workflows for tasks that appear more complex.
How long does it take to implement a new customer from contract signature to go-live date?
We are able and capable of adapting to our client's timeline to go live. We can fast track, expedite, and stand up services as quickly as our clients need us to. This is a huge differentiator that sets us apart from our competitors. For a typical one-location implementation (or more if they all use the same interfaces) our turnaround time is on average 53 days from kick off call to go live.
What does AQuity do to ensure the quality of delivered documents?
AQuity Medical Transcription's audit team is an integral piece of AQuity's quality management program to ensure we are meeting customer expectation, as well as our own internal measures for quality sampling. Audits are conducted across several different platforms on a continual basis to assess the overall health of an account and results are made available to our employees and customer base on a timely basis.
What is the average turnaround time for processing documents?
Average TAT was 3.6 hours in April 2023.
A Transcription Specialist is Standing by to Answer Your Questions
AQuity is recognized year after year by healthcare executives, HIM depart managers, and end user providers through KLAS and Black Book as the leading Medical Transcription Service provider. Contact us today to learn what we can do for you.
KLAS - Best in KLAS for Transcription Services
Best in KLAS annual awards recognize software and services companies who excel in helping healthcare professionals improve patient care and care delivery business operations. All rankings are a direct result of feedback from providers and healthcare executives over the last year. A Best in KLAS award signifies to the healthcare industry the commitment and partnership that the top vendors should provide.
AQuity has been named the Best in KLAS Medical Transcription Service vendor the past five years.
BLACKBOOK - Top-Ranked Clinical Documentation / Transcription Service
Black Book collects client opinions across 18 operational excellence key performance indicators completely from the perspective of the end-user client experience.
AQuity has been judged the Top Ranked Medical Transcription Service for nine consecutive years, including earning the highest scores in 11 of 18 categories the past two years, far outpacing the 20-vendor field.
AQuity Solutions is great; they deliver on what they promise.
My contact at AQuity helps a lot. They go above and beyond.
The firm is easy to work with and our CRM is top notch.
Our EMR vendor struggled with a bidirectional interface but AQuity.
AQuity's greatest assets is their strategic ability. They help us evolve.
They were elbow-to-elbow with us when we went live. Great service.
Keeping Your Data
Accessible and Secure
Security and Safeguarding customer data has always been our highest priority at AQuity Solutions.
We are committed to continually improving our security posture as evidenced by maintaining certifications for SOC 2 Type 2, ISO 27001, ISO 9001, and KLAS/Censinet Cybersecurity Transparency. We work closely with our IT and Security departments to ensure the data of our clients are protected and accessible to only those permitted to view the data. See our security webpage for more details.
Medical Transcription
and Compliance
AQuity maintains compliance with HIPAA, and all government data regulations within the countries we do business. Our Information Security Management System ensures compliance through securing confidential information, utilizing compliant and secure data accessing practices, and promoting safe security measures to all AQuity employees for the security of our clients. 
AQuity Medical Transcription staff is trained annually for HIPAA, GDPR, CMS Fraud, Waste and Abuse. ISO 27001 and social engineering and participates in on-going awareness campaigns to continuously ensure security. See our security webpage for more details.